BOLLYWOOD MASALA
Bollywood Masala is fully licenced and BYO bottled wine only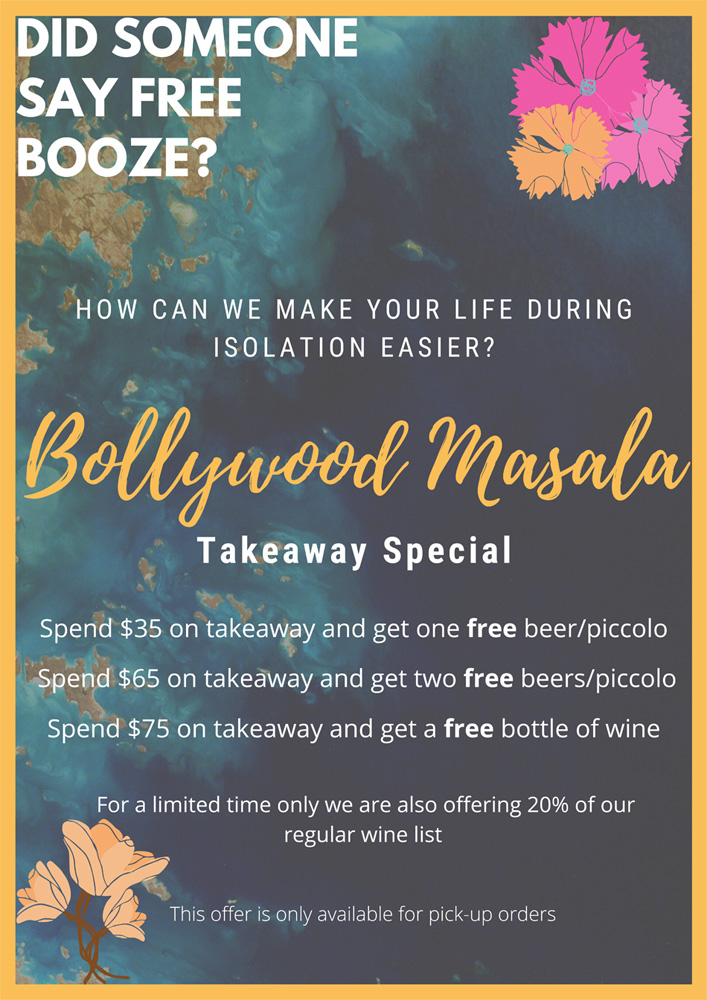 DEAR CUSTOMERS
YES WE ARE OPEN FOR TAKE AWAY AND HOME DELIVERY BUSINESS DURING THIS COVID-19 PERIOD

Please be assured that we are strictly following ACT Health, Australian Government and WHO requirements for safe food handling during this time. This is additional to the requisite food safety and handling requirements applicable to us as a restaurant. This includes regular hand washing and thorough cooking of all meat and poultry.

We are complying with Government direction by only operating during this period as a takeaway business with minimal appropriate staffing numbers to support social distancing requirements.

You can order takeaway food by calling 6162 1113 and paying for it over the phone if you wish to minimise people to people contact.

We can then drop food to your car outside the restaurant if you are too concerned to come inside.

You can find our takeaway menu online at: bollywoodmasala.com.au. Please note that a wait time will apply so please try and call ahead.

If you come in to pick up your food we have hand sanitisers and social distancing is strictly observed should there be more than one customer picking up food at the same time. Staggering pick up times is our preferred option.

You can find us through Delivery and Menulog although we advise you to order directly as that allows us better control over food safety and it is also cheaper for you and us.

As we have no dine-in we are able to be more responsive to your take-away needs, and indeed are reliant on your support during these challenging times.